Sometimes the best is the one helps the gifted person by saving his time and effort, and the vacuum cleaners gifts are one of these gifts. Despite every house, it may have already one, but it is not something that the user buys every couple of years, that is why most of old married people of parents have always old ones, that are not so professional like the new and recent ones.
Present advanced vacuum cleaners will be a good gift for those who have old versions of the vacuums or do not have a proper one, to provide to them a better experience with its more advanced features, which makes it a good gift for mom, wife, sister, and friend, as long as you know that they do not have already an advanced one.
Vacuum cleaners are a good gift for the closer people like family or close friends only, as it is not proper to gift for everybody, but at the end that will depend on your evaluation.
And you do not need to limit yourself to the ordinary home vacuum cleaner if the gifted person has a good one already, but you can go beyond that by gifting a robotic vacuum to clean the floor for the gifted person while he is not home, or even to gift a car vacuum to help him in cleaning the car, and you can as well choose one of the water vacuums that will give extra clean by water compared to the traditional vacuum cleaners, and you can choose one of these options if you want to present a helpful gift to s
ave more time and effort for the gifted lady. 
So we will give some hints about those other types of vacuums and how they can make a good gift, so you can think if it is the proper choice to go for or not.

Is a Robot Vacuum a good gift ?
Despite the robotic vacuum gifts are a high budget type of gift, but there is no doubt that it is a perfect gift for ladies to give them extra help in cleaning the floors of the house easily and continuously while they are relaxing on the couch.
I am pretty should that most of us heard about it, but if you have no idea about it we will brief some details here about it to be able to think if it is a good gift you can present or not…
It differs from the ordinary vacuum cleaner as it moves alone to clean the house and sweep dust on the ground. Actually, Some kinds of it recognize the dimensions of rooms and furniture places by infrared and it is wheeled, and these types of vacuums work with a battery in some types the vacuum can go to its charger to charge itself when its low power.
Moreover, this type of vacuum has sensors to measure the dimensions of the place where it is going to not hit furniture and walls and it is controlled by a remote control. It has a low height which enables it to walk and sweep under chairs, tables, and other furniture easily. Yet, for its small size, it can be stored easily; so it will be good for the pregnant woman or moms because the vacuum will sweep the floor of the house itself in order to save effort and time for the pregnant woman and to avoid standing for a long time sweeping the house.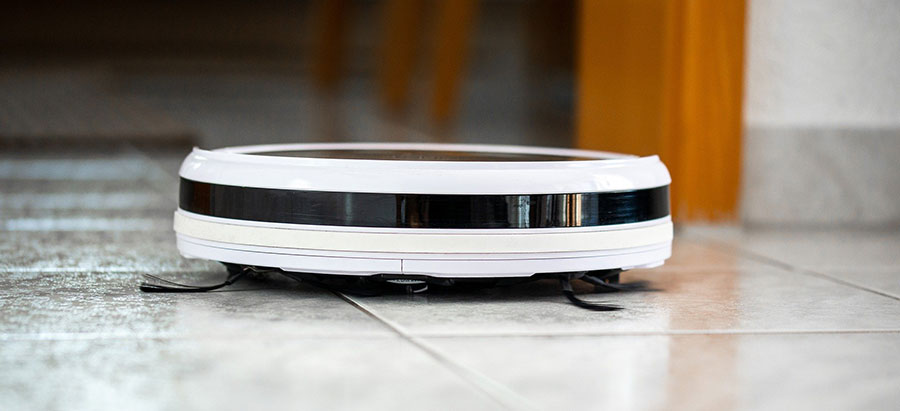 Housewarming Gift: Robot vacuum cleaners are one of the best housewarming gifts, and because the housewarming gifts are house related gifts and not personal gifts, you will find the robot vacuum matches that perfectly, weather the housewarming gift was for married couples or even for a single person, for woman or men, it is always a good gift as long as the gifted person does not have one already in the house.
Robot vacuums are a feminine gift like the ordinary vacuum cleaner, but actually they are so practical for the single men, where they can set it to clean the house while they are busy or already at work, which makes a great help when there is nobody in the house.
Mom: It is a perfect gift for moms to save their time and effort in cleaning the house, especially if the mom is a grandmom as well, and the sons and the grandsons gather in her house very often, so definitely you need to consider this gifts as an option if you have a big budget for the gift.
New Marriage Gift: Robot vacuums are good to gift for the new married couples too, as it will give them a great help in cleaning the floor all day, but because it's a high budget gift, we recommend to present for the close family member like the brothers, sisters, sons, and daughters.
Pet Lovers: the houses that have pets always suffer even a little from the fur of the pets everywhere in the house, for sure has pets will not clean after them many times a day, so Gifting a robot vacuum will help a lot in that.
Get Well Soon Gift: If the patient is a housewife and needs to take care of her house while being sick and does not have someone to help, then you could present her a robot vacuum as get well soon gift up sweep the dust of the house floor on its own, especially if the patient has many visitors and she is not able to clean the house daily.

Pregnant Women: usually the pregnant women get tired quickly in the last few months of pregnancy and do not have enough energy to do all the cleaning that she used to do before, that makes gifting a robot vacuum a unique type of gift that can help her not only in the pregnancy period but after pregnancy as well, where she will be so busy with the baby already.
Wife: It is a good gift from the husband to the wife to show how much he cares about the comfort of his partner, especially if she is a working wife and does n't have already much time to every day for cleaning.
Big Houses: if the gifted person has a big house, then the robot vacuum will more perfect compared to the small houses, because the big houses usually need much effort to clean, and the robot cleaner will give help in that, but for the small houses it is easier to clean with the ordinary vacuum cleaner that most of the houses have already. For the small houses, if you compare the price of the vacuum with the effort that it will save for the lady of the house, then it could be better to put the gift budget in another kind of gift which could worth more, but for the big houses, robot cleaners are always a good gift.
Car Vacuums as a gift for the Car owners.
Despite every car needs that kind of cleaning tool, you will find few people has it for their cars, which makes it a good gift for the car owners sweep the dirt of the car floor due to daily use and food crumbs, especially if the gifted person has kids because he will be able to clean the interior of the car daily without the need for the car washer. Also, for people who are busy to wait for a long time in a car wash that may reach sometimes to hours of waiting at peak times. 
The fact that it gets its power by connecting it with the lighter of the car makes it so practical, plus the gifted person can use it at home as well to clean the corners that are hard to reach or the furniture.
To Whom You Can Gift The Car Vacuum.
Coworkers: car vacuum is a good gift for any work colleague who has a car, and it is proper to gift it to him as long as you know that he does not have one already.
Family Members: Whether parents, siblings or sons, the car vacuum are a good gift for saving money and for the continuous cleaning, and will be more helpful if the gifted person has kids driving him every day to school, where definitely he will need to clean after them.
Pet Lovers: Pets always leave cars full of fur, and car vacuums will be a good gift for the car owners who have pets to keep the car clean after every time they drive with their pets.
Wet dry vacuums are a good gift choice.

Regardless of how many times you clean the floor with the dry vacuum, at some point, you will definitely feel like you have to clean it with water as well, which adds one more task to the lady at the house, for sure it is not frequent like the dry sweeping, but it is necessary for sterilization and health.
So if the gifted person has already a dry vacuum and her house is already big which takes much effort from her to clean it with water, then you can think in the wet-dry vacuum as a gift for her.
Get a Little Closer
Join Our Newsletter Now