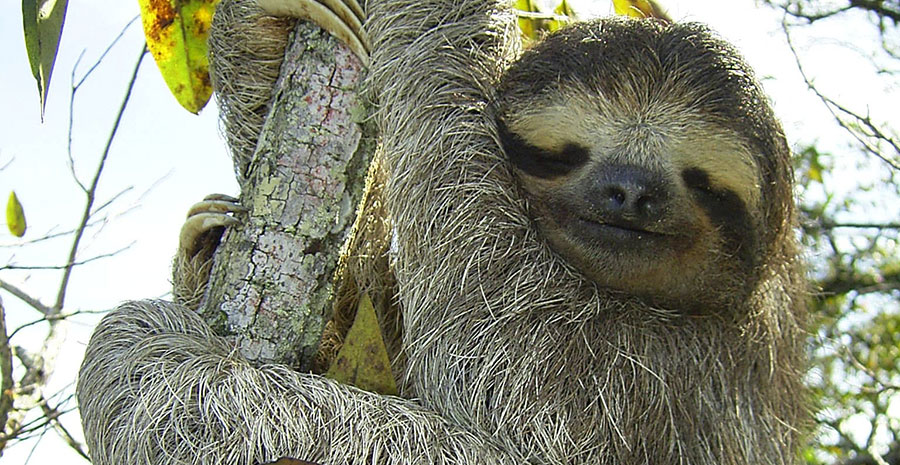 Sloth Gifts are symbols of the relaxing times of the Sloth Lovers, despite many of the sloth lovers like him because of his smiling face and his cute look, others like him because of it represents the relaxation and the comfort that some of us like and some miss.
When you present sloth gifts it should refer to one of four meanings that you want to deliver whether the gifted person was a sloth lover or not.
First,

That is so much relaxation, you need to do something or move around, you are super lazy.

Second,

you need to take a break, please get some relaxing time, work is not everything.

Third,

finally, we have time off, let us get the most of it by doing nothing, let's get slothed.

Fourth, I am just an animal lover.
Sloth Gifts for First Case (Lazy People)
You have to be careful while gifting sloth gifts to those people, it could look to them that you are making fun of them or mocking them, and then your gift will not have the main factor that makes the gift is a gift, where the gift should only give and grant the gifted person happens and pleasure by receiving it, so if you feel that your gift will not achieve that, then it is better to not gift it at all.
But can gift it to the people who feel so lazy currently despite it is not their nature like..
Get well soon, some patients need a long time to recover, which require staying relaxed for a long time, and here you can gift them such gifts to motivate them to better.
Pregnancy, Pregnant women need to move and walk which is healthier for them, they do not need to do that much but it is necessary to not relax all the time, and sloth gifts can be a good gift for them and a good way to say that.
All the Screen Worker, All the people who depend on the computer in their work they feel lazy to move around or even to go out to by some snakes or food, and for sure you sloth gifts will be a right choice for them to encourage them to move, which is better for their health and their efficiency.
Games Lovers, Whether the gamer was adult, like a brother or husband, or he was a child who spends much time playing on the PlayStation or on the computer, all always feel lazy to do and other things helpful, which irritates their families a lot, and the sloth gifts can deliver the message well, especially if it was a cushion printed with the sloth that you can place beside them all the time to remind them of that is enough.
Lazy Weekend, Some husbands and wives like to have a full relax in their weekend after a long week of hard work, which means letterly a full relax all the weekend without leaving the house's door to have some time outside with their spouse, and for those people, sloth gifts can be a nice and funny gift to present to be the way of saying let's get out.
Sloth Gifts for the Second Case (Busy People)
If the gifted person is a hard worker, maybe because of what his work needs, or may he likes to spend his time at work more than anything else, then you can present him a sloth gift that either has a printed quote refers to what you want to say or attaching a card with your gift and write in it in your words how much he needs to get some rest.
Although we find in many times that our twenty-four hours are not enough to finish all we need or want, we need to have a sloth time, we need to have a rest, relaxation and meditation times for our mental health, and to recharge ourselves to be able to move forward.
And you can express your words in a nice way that shows him/her how much you care about him/her.
Those people could be…
Husband/Wife: if the spouse so hard worker, and doesn't give himself enough time to rest despite him already can, maybe his passion for his private work or his interest blind him a pit of realizing that he needs to give more time for his family and his own health, then your gift will be a good choice.
Friend: If your friend is so busy at work, and is not able to see him or hang out with him anymore, giving sloth gifts could be a nice way to say that.
Sloth Gifts for the Third Case (let's have fun, let's do nothing)
Sometimes all that the gifted person needs and wants is to relax, especially if he truly earned it, by then your sloth gift for them will match his willing and it could be the best to have…
Annual leave, most of the hard workers' dream of their annual leaves, they may plane for adventures and spend fun time, but having a relaxing and doing nothing as a part of their annual leave, definitely taking place in their plans, so if it happened that you are going to gift someone in his leave time a gift, it will be nice attaching with it sloth gifts which will match his current mode.
Sloth Gifts for Students, If you remember that feeling after the last exam of the year in the school or in college, after that much stress and study for weeks, where all you need in your life, especially in the second couple of days, is doing nothing, this is when receiving sloth gifts will be perfect to describe your feelings.
Athletes, The same applies to athletes after finishing a tournament or a season, where all they need is completely relaxing for a while and just having some fun with their family and friends.
Someone accomplished something; If the gifted person was working on decorating his house for a long time, or trying to figure out something for a while and finally he finished it, sloth gifts will express his feelings, which while making it a good gift to him.
Quet His Work, When someone resigns from his overwhelming job for a new and better job, he will have that feeling to relax for a few days doing nothing.
Sloth gifts for the Fourth Case (I am just an animal lover)
For those who just like sloth animals because of their smiley faces and the awesome and cute looks that they have, then you can present sloth gifts that do not have any messages on them, So if you already know that sloths do not represent for them anything but cute animals, then presenting a sloth gift with a message on it could refer to a wrong meaning that should be careful enough to avoid.
Before Gifting Sloth Gifting…
If the gifted person is a sloth lover, then before you buy a sloth gifts for him you need to be aware of the point or the second side of the coin of this type of gift, so you can put that in your consideration to buy the correct sloth gift for your sloth lover friend, you should be careful about what words are written or printed on the gift, and if it is necessary to have printed quotes on it or not at all, because your gift should give happiness, motivation or encouragement, not negative energy, upset or broken hearts by the false meanings that you may don't even mean.
Why Sloth Gifts are a good choice for busy people?
Having targets in our lives is so important, but if it will take a long time to achieve our targets, then we need to balance between working on achieving them and taking care of our other important things in our lives, mainly our health and family…
That's why the best sloth gifts to give are the ones that can be used in relaxation times, and that has quotes referring to the meaning of the need for relaxation from time to time…
Let's get slothed.

We will get there when we get there.

I will do absolutely nothing today.
Some people consider that as a negative message that encourages people to do nothing, but the fact is that there are many people are so in need to have such a time, so if the gifted person in need for that not only for work as we mentioned but maybe for pregnancy or sickness, then your sloth gift will be a perfect choice.
The best sloth gifts are the ones that can be used in the relaxation times, like… the printed mug, cushions, bookmarks, or even shirts… which makes it not proper at all to gift for coworkers to use in the working time, for sure you will drive your boss made at you 🙂
So generally you need to evaluate this type of gift if you decided to present it to a super active person, as they might not like the concept, where many active people like even to have there relaxing times time Traveling or practicing activities or adventures, which does not match the sloth relaxation aspect.
Here are some gift ideas that you can consider if you decided to move forward in buying sloth gifts…
Mugs & Cups: Having the favorite drink in the relaxation time is one of the most common actions that we do, where relaxing with some hot chocolate or coffee or even tea usually improves our mood and gives us more amusement in our relaxation.
To make it represent your idea of sloth relaxation, you can present printed mugs that have sloth images with nice slothy quotes.
Couch Blanket: couches is one of the best spots we conquer to have our best relaxing times inside the home, whether for watching TV or browsing the internet on the mobile or laptop, or even reading a book, in winter times couch blankets are good to hang with, that makes it a good sloth gift when it has printed sloth images and quotes.
Cushion: laying in a nice cushion or pillow in the relaxation times is something we most of us do to increase our comfort especially if we are watching TV, or relaxing on the couch with our mobiles, so gifting a printed cushion with sloth images and quotes will be a gift good idea to use at these times.
Sloth Stuffed Toy: Instead of the cushion, you can present a sloth stuffed toy to be used on the couch to lay on, it will be at the same time a good decor piece to place anywhere in the house.
Bags: Printed gans with sloth can be a good gift only if the gifted person will use them to relax on the beach, pool or even in cafes, but it will not be a proper kind of gift if intended to be used in hanging outside for shopping or having a wake, because it does not match the idea of laying down for relaxing, because moving around is not exactly relaxing, so if the gifted person does not spend his relaxing time on the beach or cafes or such places, then it slothy bags will not be a proper gifts idea for him.
Socks: It is a funny and funky gift idea to present printed socks with sloths, many of us wear socks at home for warmth at relaxing times, which makes it a good sloth gift idea to consider as well.
Get a Little Closer
Join Our Newsletter Now