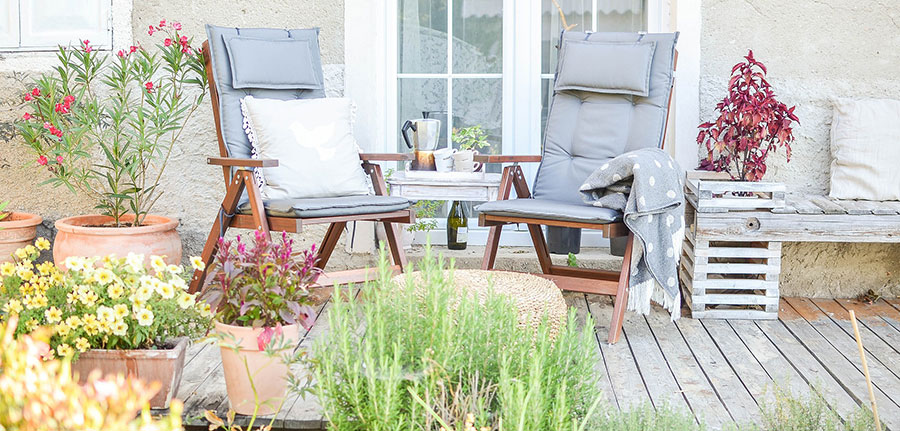 Having a garden or a yard for the house is something many people dream to have, So if the gifted person already has a garden or yard for the house it will be a great idea to choose an outdoor housewarming gift instead of the ordinary interior gifts.
Taking care of the garden or the yard to make it nice and fun to set on it is not an easy job, so if your outdoors housewarming gift can add value to the gifted person's garden, definitely it will be a good choice if you choose the right gift. 
You need to mind first that people do not like just to add stuff in their garden even if they were not usable of helpful, so you need to buy something that the gifted person most likely will like and use, and more important gifting something he needs and may he does not have it already or planning to buy himself. So if you are going to gift him trampoline or foldable pool you can not just go and buy it by yourself, it would be better to tell the gifted person and arrange with him first so he may have plans of what better works for him, or may he does not want it at all, so always for the big outdoor housewarming gifts you need to arrange with the gifted person first.
We can divide the outdoors housewarming gifts into four gift types as following…
Fun Gifts.

Gardening Gifts.

Barbecue Gifts.

Decoration Gifts.

Garden Furniture Gifts.
Dividing the type of gifts will make it easier for you to choose the right gift, and will make it faster to buy the proper one for the gifted person, so now we are going to talk more about each of these types and give you our recommended gifts that you can buy as outdoors housewarming gifts…
Fun Outdoors Housewarming Gifts…
We usually looking for gifts in this category when the gifted person has children, so the fun outdoor housewarming gifts will add joy and amusement for the family not only for the parents, and here are some of the most common fun outdoors gifts for the yard and the garden… 
What distinguishes trampoline from the other types of outdoor housewarming gifts that it gathers between being a fun tool and at the same time sports equipment for the house where they can increase the enjoyment of the family, therefore it would be a very special choice as it enables people to jump safely and easily with a lot of fun in the backyard. 
Some types of trampolines are surrounded with a net fence in order to increase its safety and protect the player from injury. In other words, the net will protect players from falling to the ground and crashing with heavyweight furniture. You can choose this outdoor housewarming gift from several kinds, shapes, and sizes according to what suits the gifted people and according to who is going to play on the trampoline since adults' trampolines are bigger and can tolerate loads more than children's trampolines do.
Of course, we all want to own a house with a swimming pool, but it is a luxury option for rich people only; yet, each of us can have an inflatable pool in their garden for kids to enjoy swimming during the summertime instead of going to the beach. 
The inflatable pool is one of the best choices as an outdoor housewarming gift for the families that have kids and do not have already a pool in their garden or yard. 
The inflatable swimming pool does not consume a lot of space in the house as if it is not in use, it can be discharged and folded to the size of a small suitcase and placed in any storage cupboard at home. When you want to use it, it could be inflated with a special inflator that comes with it and placed in the garden of the house or the courtyard. 
Thus, this is one of the distinctive summer gifts for families with children to decorate the garden and it is a very practical gift. You can choose between different capacities and sizes to match the pool with the number of children and their ages, That will need a little research from you to make sure that the yard or the garden of the house can bear the size of the pool that you will buy as an outdoor housewarming gift.
3. Small Swings for Children
Swings are fun to play with especially for kids, some of which are made of metal, wood or plastic and some of which are inflatable too. Yet, the material varies depending on the type of swing or toy. Mainly, it is very suitable for those with young children and would like to dedicate a part for children in the garden, or if you have a garden and have children, you can give them a swing that suits their age.
A person may need to relax among the plants and flowers in their garden to enjoy the beauty of nature's green color, or perhaps relax with a book outdoors. What may increase this enjoyment and improve mental health is to have in the garden a rocking chair, Giving a swing chair or a swing sofa as an outdoor housewarming gift will increases the fun in the garden for the whole family. In addition, it is a distinctive garden decor when they are not used.
You can choose among hundreds of toys types that can be only played within the garden or the yard, it is always recommended to buy the inflatable ones so they can be easy to store and move after the kids finish playing, and you need to mind the kid's ages are well to fit them and to per proper to last for more couple of years more at least.
Gardening Outdoors Housewarming Gifts…
Despite taking care of the garden of the house is not an easy job, some people feel the joy and entertainment to do it themself, gardening and planting lovers spend a big time per week to make their gardens or yard perfectly and nice to relax on, so gifting gardening tools and equipment as outdoor housewarming gifts for sure it will be a good and helpful choice, and here are some recommended ideas that you can think of..
You can buy gardening hand tools set which has different items that are capable of digging, weeding, loosening, ventilating and transplanting in your yard and garden. Such a set will be so practical to present as an outdoor housewarming gift, it will be better if you can buy the sets that have already a small seat with it to be even more helpful.
Usually, gardening needs shoes only for gardening, because it will get always dirty and wet, and the ordinary shoes if we used for this purpose it will quickly damage, So if the gifted person does gardening then buying waterproof gardening shoes as outdoor housewarming gift will be a nice choice.
Garden kneeler pad or Kneller-seat, Gardening requires being on the knees a lot to care of the pants, and it is not proper for anyone to be on his knees directly on the ground, especially in the dirt and dust, even if the person was wearing thick pants, so it is always a good idea to present kneeler pad as an outdoor housewarming gift to make it easier, cleaner and healthier for the gifted person, as the kneeler pad usually made of thick foam that protects the knees very well from any small stones in the ground.
It is a decorative and practical outdoor housewarming gift at the same time for lovers of planting flowers and plants in their garden themselves. And it is always suitable for all types of gardens, whether small or large. Also, it is suitable for those who want flexibility in planting plants, so they have the freedom to move the plant from one place to another in their garden without the need to dig the soil or damage the plant. 
Notably, ceramic pots may be the best for gardens because they tolerate the sun and do not crack. Moreover, there are also self-watering types of pots that do not require daily watering by the owner of the garden and you can choose among hundreds of types of plant pots in terms of shapes, decorations, and inscriptions, and they differ in design, shape, and size. Yet, you should know a little about the types of plants or flowers that the gifted person has in the garden so that your gift of plant pots is suitable for them.
10. Self-Irrigation Plant Pots
These kinds of pots can be a perfect outdoor housewarming gift for those who travel a lot or do not have much time to spend on taking care of their garden. Self-watering plant pots reduce the time and effort needed for the care and irrigation of indoor ornamental plants as they water the plants through self-control by distillation.
Barbecue and Grilling tools as outdoor housewarming Gifts…
Many people like to eat grilled meat, and some of them love to do the barbecue process by themselves. The backyard or the garden of the house is perfect for the family to make a barbecue party whenever they want, so presenting grilling gifts are nice outdoor housewarming gifts for barbecue lovers, where you can present the grill itself or the barbecue set and equipment that helps them in grilling.
It is the most famous and oldest type of grill, also the perfect outdoor housewarming gift for your friends who love outdoor barbecues, because it is giving the food a unique and delicious flavor and aroma of charcoal. 
There are gas grilling as well, but the charcoal grilling is much safer to use and to move around in any place in the garden or the yard, so we always recommend the charcoal grills over all the other types of outdoor grills. The weight of some charcoal grills may reach approximately six kilograms only, so it is advised to buy folding types for easy carrying and move.
Barbecue Tools and Supplies as Grilling Gifts…
If the gifted person already has a grill, then you can give barbecue supplies as outdoor housewarming gifts to help him in grilling, especially if he is new in practicing such activity…
Here are some of the barbecue supplies that are used in the barbecue process, which you can give to barbecue lovers.
12. Heat Resistant Gloves
Heat resistant gloves for grilling, These specialized gloves facilitate the barbecue process, protect the hands from the flame of the barbecue fire especially for outdoor barbecues, which may have large and intense fire flames.
It is one of the most popular types of barbecue gifts or grilling gifts, it contains a barbecue kit, shows the readiness, and transporting grilling food to dishes. This equipment is sold as a complete set in a custom bag that can be tightly closed, transported and stored by car to move to barbeque areas easily. The barbecue kits feature contains all kinds of tools through which to handle barbecue parts and complete the barbecue process quickly and easily. It is a nice outdoor housewarming gift that can be used as well when the gifted person goes camping someday.
14. Manual Air Blower for Grilling
It facilitates lighting the barbecue fire with less effort and faster than traditional ventilation by rotating one of the handles with ease, which automatically pushes and blows air from the blower in the direction of the fire, which makes the ventilation process on the barbecue very easily and effortlessly.
When the gifted person likes to relax for some time in the garden or the yard, for sure he will think about his drinks, and in wintertime, the hot beverages will be the favorite, so the thermos for tea and coffee will be perfect for that use, and what makes it even fitter to be outdoor housewarming gift that it can be used if the gifted person with his family decided to have a barbeque in the garden as they will need to some hot drinks after the barbecue. 
And then you need to mind the size of the thermos, because if it will be for a family then it would be better to buy the big sizes to cover all family members.
16. Foldable Camping Chair
Usually it is used for camping, but it is great for all outdoor activities, even if it was in the garden of the house, may the seat be not enough for everyone in the garden, then the foldable camping chair will be easy to move, to fold and to store inside the house after that.
What distinguishes this chair to all the ordinary foldable chairs that, it has pockets and storage areas to put the drinking cup, bottle, and tissues, and all the stuff that the user will need without placing it on the floor if he is sitting away from the main table, plus, that makes it perfect for the barbecue use in the garden as well, where the gifted person can rest on it while doing barbeque which usually is not so close to the main table in the garden for safety.
Decorations as Outdoors Housewarming Gifts…
Buying some decor pieces whether they were unique lighting lamps or figures, they are some of the best outdoor housewarming gifts because usually who move to the new house with a garden especially if he didn't have a garden in the old house, he postpones the decorations of the garden or the yard for later because it is an extra cost on stuff not essential that can be postponed for later. So you can give him one of the unique decor items for the garden to be your housewarming gift. 
Lighting Supplies as outdoors housewarming gifts, Most Likely the gifted person has already major lighting in his garden or yard, but there are many simple and decorative lights that you can buy as a gift to add an extra nice touch to the garden, and it will be perfect if you can choose solar lighting lamps so it will be easier for the gifted person to place it any wear without worrying about the power source.
Plus, it is recommended to choose the waterproof lights to bear the heavy rain in the winter too.
There are many forms of garden lighting lamps, some of which is a small rope lighting lamps with multiple colors, and other traditional white lamps that are used to decorate the house and garden. Mainly, they are placed on the garden toys, fence or furniture as they are one of the most important decorations for home gardens. Moreover, there are large lamps for home gardens and they can be hung on the walls such as floodlights to illuminate the corridors or installed on the garden fence, and other types are placed on the garden tables or seating areas. 
Actually, all of these represent beautiful garden decorations and they give a beautiful night appearance to the garden so you can buy gifts from garden lamps that fit the design of target gardens in order to provide excellent lighting at night.
18. Water Fountain for the Gardens
Fountains are one of the most distinctive outdoor housewarming gifts for the garden decoration, whether it is a fountain in a swimming pool, or in a water pond, or a small fountain in a pottery container that operates by a small motor. And they are available in multiple sizes depending on the number of water outlets and the house or the garden where it will be placed.
Some of these fountains are solar-powered so they are the best choice for sunny gardens since they are green-powered, and they are so simple and easy to present as outdoor housewarming gifts compared to the other large types of fountains.
There are some other types made of marble to fit solid or tiled garden flooring; also there are other types of metal or stone to suit mud garden or sand garden flooring. Yet, gifts can be presented to those who work to re-coordinate small house gardens or coordinate their own villa gardens as a water fountain adds a great decorative appearance to gardens.
According to that, the owner of the fountain can relax next to it during moderate and hot weather in order to enjoy listening to the water sound trickling down. Notably, this act increases the ability to make dopamine "which is the happiness hormone". So when you offer a fountain to someone as an outdoor housewarming gift, literally you are making them happy. That's why while choosing a fountain for a garden, it is recommended to get one either that push the water up enough to make a clear sound when it falls on the surface of the water, or buy one that looks like a natural waterfall or that is constructed from stones matching the place around it in order to create a natural environment within your houses. 
19. Decorative Tables for Ornamental Plants
They can be presented alone or attached to your main gift of ornamental plants to be placed on the table. Yet, plant tables vary according to the type, shape and size of the plant that will be placed on them in order to suit the reception rooms, living rooms or workplaces as they add a distinctive decorative appearance. Also, they are made of different materials such as wood, metal or plastic and there are several sizes and designs that can be used as special gifts for lovers of decorative plants and decorations as well.
Garden's Furniture as Outdoor Housewarming Gifts…
Because the garden is part of the house and the owners of the house usually want to spend time to relaxation, furnishing them with suitable garden chairs and garden tables are necessary. 
You need for sure to arrange with the gifted person about such a gift, so he can choose what suits him the most, and for such a big gift it is usually a gift among the family members for who has or moved to a new house with a garden, because when you present furniture as outdoor housewarming gifts usually considered as support gifts because they are not cheap and save the gifted person from spending money on something of the essentials.
but if it is up to you, it is preferable to buy garden furniture as gifts to be made of bamboo, as it is easy to carry because of its lightweight and its ability to handle humid, sun and heat in the garden. 
There is also garden furniture made of metal, wood or plastic, which you can also buy according to the decoration of the garden. However, when buying garden furniture, you should consider the design and the sizes of the decorations of the garden as the size of tables and the number of chairs should be appropriate for the number of family members of the house, or for the number of daily visitors. Also, you can provide some of the chairs and tables for kids to enjoy their snacks and drinks after playing in the garden.
20. House Garden Umbrellas
Garden umbrellas are one of the main furniture parts to locate the seating areas in gardens and they differ according to the size of the seating area, the size of the tables and the number of chairs that will be used next to them. It is a necessity even in winter, especially if the owners of the house spend a long time in the garden on their weekends as it protects them from direct sunlight while reading and relaxing. 
Notably, common types of umbrellas are made of fabric and metal, while there are also plastic garden umbrellas and wooden garden umbrellas. Yet, when you buy garden umbrellas, consider one that matches the floors of the gardens of the houses; nonetheless, they can be placed next to kids toys and swings to protect them from the sun while playing. Moreover, they can carry lamps to illuminate the home garden at night; so presenting garden umbrellas to friends or relatives who own private home gardens and haven't yet furnished them is a good outdoor housewarming gift.
Get a Little Closer
Join Our Newsletter Now