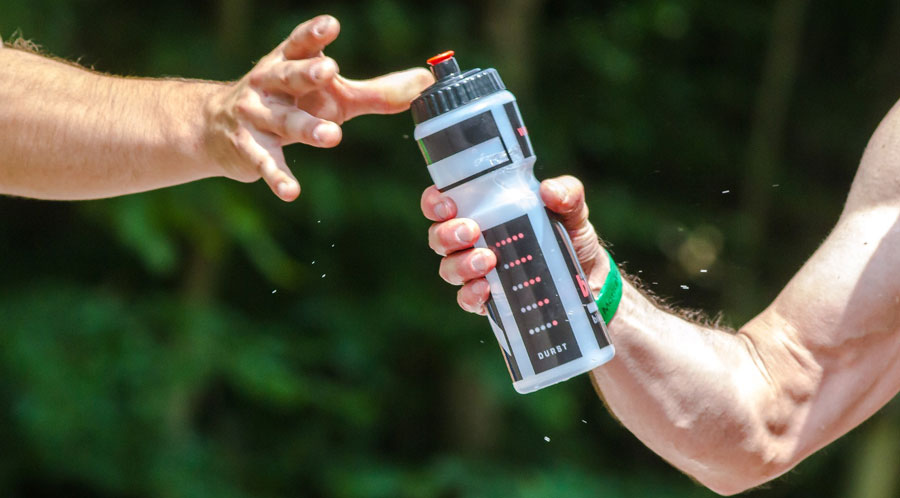 Receiving a nice water bottle as a birthday gift is not so common, despite it is a very nice gift to have especially for those who are obsessed with having a healthy lifestyle. It is a good birthday gift for friends, coworkers, or even relatives and family members.
Water bottles are a good corporate gift as well for all the kinds of companies, as a way to raise awareness for hydration, whether from the company to their employee or as a present for the company's clients.
We will talk in this article about the following…
3 Types of people to present Water bottles to.

7 Types of Water bottle gifts to present.
So let us start with whom you can give water bottle gifts to..
3 Types of People to Gift Water Bottles to...
Sport & Workout  Lovers: For those who like to workout indoor or outdoor, in the Gym or at home, athletes or just fitness lovers… 
all of them need to stay hydrated during the workout times, and the proper water bottle will be the best company to them, which makes water bottle gifts the perfect choice for them if you noticed that you can present a better one than what he has. We will show in this article the best water bottle gifts that make the best choice to present to them.
Adventure, Traveling, Outdoor Lovers: It is not a nice gift for them only for staying hydrated, but because it is hard for them sometimes to find a place to get water from nearby, which makes it a necessity for them in many cases to carry their own water bottle with them, like in mountain trekking, or going for camping. 
Plus it is a great gift for those who used to have long drives, whether driving by themselves or taking transportation, which can make it a good choice that not many people are keen on buying one for themselves despite needing it.
So presenting a proper water bottle for outdoor activities that bear such hard environments, and at the same time easy to use will make your gift perfect.
Computer, Desk Workers, Couch Lovers: usually who sit for a long time and do not do a vesical effort, do not feel thirsty much, despite they may already be dehydrated, and that makes many people not mind the need for the water. 
Therefore, The best way for them to stay hydrated is by putting a bottle of water next to the person on the desk, which will be always a reminder of the need to drink water to stay hydrated throughout the day even if he does not feel thirsty. So the gifted person will drink from it whenever they see it. 
Also, the bottle enables its user to fill it with a good amount of water to not waste time going back and forth to fill a water cup or to drink in the pantry or the kitchen. Where many people are lazy to do unless they are so thirsty already.
Thus, it is essential as an office accessory for co-workers especially for those who are so keen on living a healthy lifestyle.
7 Types of Water Bottle Gifts..
1- Water bottle gifts with a sports cap
This type of water bottle is a perfect gift for sports lovers because it is designed for them, where the sport cap is one-handed open, which is the fastest way to drink and the most practical for the frequent use every couple of minutes, plus it provides the water sip by sip which is healthier for everyone during in the workout. Usually, the bottle body is made of stainless steel to not worry that much of breaking it if it fell from the sweaty hands..
To Whom to Gift Water bottles with a Sports Cap…
This type of water bottle gift is perfect for all the intense sports, For all lovers of sports that increase the heartbeat rates like…
At-Home Workouts, Gym Lovers, Hikers, Running lovers, Football Players, Yoga lovers, ect..
2- Classic Tumbler or Bottle with Straw
You can consider it a bottle, not a cup when it has a very big size because some of it already has the size of a big water bottle, so if you choose a big size, it will be an alternative to water bottles.
Many people think this is a luxurious way to drink water or even juice, but the fact is that it is the recommended way to drink in many situations and times and that distinguish it from all the other types of water bottles or even cups and glasses… and here are two reasons that make it a unique gift.
First, To keep eye contact: For those who have an important meeting or Business video calls, it will not be proper to raise a cup of water or a bottle in front of the other person while he is talking to you, which definitely will lose the eye contact, so the water bottle with straw is perfect for such uses.
Plus, It is perfect for the Vloggers as well, as it is the proper way to drink water if the vlogger felt that he has to during recording a video, which will not be proper to raise up the water bottle front of the camera, and he does not want to cut those seconds later.
It is also nice in gatherings and parties if you are standing with friends or strangers in some important conversation and want to drink water in the middle of the conversation and you do not want to lose contact with the speaker.
Second, Keep the Sight: for those who like watching TV or movies at home, they will not want to lose some scenes over drinking some water, and that is why in the Cinema they provide the Coca in cups with straws so you do now lose your sight during drinking.
You can consider it a bottle, not a cup when it has a very big size because some of it already has the size of a big water bottle.
When you realize the importance of the straw bottles, that will make you think of buying one for yourself with the one that you will give to your beloved ones. Despite the water bottles with straw are important to use in such cases, most people do have such types of bottles, which makes it a perfect gift to present even if it is not the default way to use for drinking water because it will be needed for the case mentioned previously.
To Whom you should gift a Tumbler Water Bottle with Straw…
It is a perfect gift for Coworkers, Work Colleagues, TV Lovers, Computer Workers, Vloggers, Computer movie watchers, For anyone During his Youtube watch times.
3- Water Bottle Gifts with Standard Mouth
These types of water bottles have already different types, some of them are made of stainless steel and others from plastic, some of them have a wide mouth, and some have medium or smallmouth, and which water bottle is better depends on the use that the gifted person will use it for.
The Plastic water bottles:

They are good for knowing how much water is left in the bottle, which is harder to know with the stainless steel ones, which makes it perfect for the desk, office, or home use.

Stainless steel water bottles:

They are perfect for travel, adventures, and all outdoor activities, as it will bear a lot and will not break like the plastic water bottles.

Wide mouth Water bottles

: they are available in both stainless steel and plastic standard mouths, it is perfect for those who like to have alkaline water, as it will be easy to add some lemon drops in it directly, or any additions they need like some mint leaves or even juice powder to the water. Plus, The wide-mouth bottles are preferable for many people to drink from compared to the smaller mouth.
To Whom to Gift the Water Bottle with Standard Mouth…
Stainless Steel: It is a perfect gift for Travelers, Adventure lovers, Beach Lovers, Camping Lovers, who used to go to a picnic, Fishing lovers, All outdoor activities.
Plastic: it is a perfect gift for Coworkers, Boss, Computer Workers, Desk Workers, Students for home use, For Everyone for Beside Bed use, for those who like relaxing in the garden, For Home Readers, For Dad's home office, For all Indoor Use.
4- Detox Bottle - Infuser Bottle
This type of bottle has a special place in the bottle to put small slices or pieces of fruits in it so that the water can mix with the fruits and take their flavor. Thus, while drinking you only drink refined water with the fruit flavor without getting the fruit pieces themselves out because they stay in their place inside the bottle to be eaten later.
It is recommended when gifting a detox bottle to choose a plastic one and not a glass bottle to avoid easy breakage. These bottles are available in different shapes and colors so you can pick up the favorite color of the gifted person whether male or female friends.
It is a perfect gift for those who are looking for a healthy lifestyle because it is a nice way for Getting all the hydration the gifted person needs with all the flavors he loves with vitamins & minerals the body needs from the fruits in a natural and organic way.
To Whom you can give this Infuser Water Bottle…
It is a nice and suitable gift for athletes and all those who work out because of their continuous need for water. It also suits university students and workers, where they can put it in their bags and enjoy the fresh taste of water in addition to the nutrients in it.
5- Glass Water Bottles with Stainless Steel Cap
For saving the water for long hours or more than a day, it is recommended to save it in glass water to avoid any reaction from the water with the plastic bottle body, which is healthier. That is why this kind of water bottle is common for fridge use, where they can last for long with the same purity.
Plus, It is the perfect water bottles for making alkaline water, as the best way for making alkaline water with lemon and mint is by leaving the lemon and the mint in it for at least 12 hours to 24 hours before drinking, which will be the healthier way to prepare alkaline water at home.
To Whom you can gift Glass water bottle…
It is a nice gift for all inside use whether for friends, relatives, or even a coworker.
6- Water Bottle gifts for Kids
It is perfect for kids to be used outdoors, where it is made especially for the small hands and spill-proof. Usually, it comes with a stem tube or straw which is the best way to drink water for kids outdoors without spilling what the bootle has.
Plus, It is the perfect type of bottle to let the kid carry himself in his own small bag outdoors with his parents to drink it whenever he likes and to have his own stuff separated from others which is exactly what kids like most of the time to feel independent and grown-up. It is a good gift for families who have kids +3.
The Best Times to use the Kids water bottles…
When kids are on the Beach, Picnic, Camping, Travelling, Trip, all outdoor adventures. 
7- Fitness Large Water Jug:
This type of very big water bottle is perfect for big size fitness lovers, as the ordinary size of the water bottles will never be enough for them in the Gym or during working out and they will need to fill the ordinary water bottles many times during training.
This Large Water Bottle is a good gift for heavy gym colleagues, and any heavy Friend or family member whether men or women.
Get a Little Closer
Join Our Newsletter Now