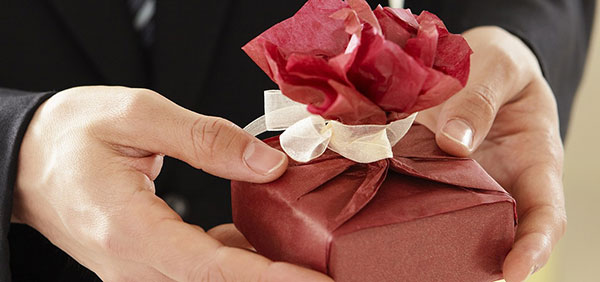 The moment you receive a gift and the moment you give others a gift, are of the most exciting, enthusiastic, and happy lovely moments between you and your loved ones. And if gifting is not of your habits, you have missed a lot! It is time to figure out and learn some arts and skills of presenting gifts even initially. On some occasions, presenting gifts is something imperative and not optional so you will be confused about how to think, choose, prepare and present the suitable gift. Hence, we will try to support you with what may help you and facilitate the gifts' matter by providing ideas and advices to make it easy, fun and joyful task.
1) Do not seek to buy a gift that is hard to buy; for example, if you do not know much about laptops or smart watches, you should try looking for other kinds of gifts that can be easily bought even if you know that the gifted person desires this kind of gifts. Although the gift might be expensive, it could be useless for the gifted person if they do not like to use it; unless you ask a friend who knows much about these products, and who can guide you before the purchase. Yet, if your resources are limited, you should buy common gifts whether personal or decorative and so on.
2) Large and medium sized gifts are not necessarily bigger than small sized gifts. In other words, when you present a gift, choose a gift in a non-expensive category and buy the most expensive brand or product from this category. So it's better than choosing your gift from an expensive category then buying the cheapest gift of this category. Likewise, presenting an Apple Wireless Headset as a gift is one of the most expensive and the best in the classification of wireless headsets for indoor and outdoor daily use; yet, it is better than presenting a cheap laptop with a higher price than the headset's one due to the classification of laptops in general! Nonetheless, gifts are not only about their materialistic value, but also about their quality and moral value.
3) Do not present motivational or promotional gifts on special occasions, unless the gifted person is doing the activity for which you are giving a gift for already such as courses coupons or gym participation and others as the purpose of the gift is to please the gifted person not to guide them. So you can present such gifts on other occasions such as birthday parties, graduation ceremonies; the secret is to choose the right time and present the proper pleasing gift!
4) Present a new gift, always a new gift. Do not ever think in presenting a used gift or product because no one wants to receive a used gift. And definitely the gift will lose its value and joy. 
5) The gift must be for personal use, because you are giving the gift to a person and not to a family, whether your gift was a symbolic or a practical one unless the gift was originally for the family and not to a particular person. For example, if you want to give someone a gift on a birthday, it is not recommended to present a fruit squeezer, which might be useful to the family use and not to a specific person. You might think that for the gifted person loves juice, they will be pleased with the gift; however, the influence of personal gifts is much bigger than gifts for general use or family gifts, so personal gifts are always preferred on special occasions. 
6) Practical gifts do not mean that they are more valuable than symbolic gifts. It is recommended not to present very practical gifts such as clothes, perfumes or bags unless you are totally confident that your taste suits the taste of the gifted person. However, popular brands perfumes sometimes could be a gift as they suit all tastes including the taste of the gifted person who might consider this perfume the best! Yet, it is easy to find numerous necessities the gifted person uses daily but if it does not fit their taste, it will leave bad impression and lose its splendor. 
7) It is preferable to avoid specific kinds of gifts when you want to present a personal gift. The best kinds of gifts that will never let you down when you choose them on personal occasions are the non-edible gifts, or the gifts that are not consumed by using them. Likewise, the gifted person cannot present them as gifts to other people, in addition to the gifts that are not easy to get rid of. Mainly, other types of gifts, rather than the mentioned featured ones, are the typical gifts to express your feelings easily; yet, you need to please the gifted person and feel yourself appreciated by presenting a valuable and unforgettable gift. Generally speaking, it is not necessary to present what is useful and practical to please the gifted person; that is what the gifting person has in mind! Nonetheless, the purpose of the gift is to make the gifted person feel happy and appreciated which will always remind them of you.
8) Make sure to understand other's taste very well. You should realize that the gift aims to please the gifted person and make them happy, and it is not to please you. You should avoid your personal taste when buying a gift and put the gifted person's taste in your mind. Any valuable or attractive gift should not be given if it does not suit the taste of the gifted person.
9) Recognize the interests of the gifted person as possible; it is a thing that must be noticed for a long period of time. If the remaining time to buy the gift is short, then you can ask and take the advice of people close to the gifted person whether they are friends or siblings. Indeed they will provide you with more information about such interests which will help you when buying the gift.
10) Give a gift that has a personal touch. Giving a unique, special and personal gift with a touch of creativity is the best gift for the gifted person. Such gifts will not just surprise and impress them, but also it will make them feel that you put so much time and thinking while preparing it and this is exactly the purpose of the gift. From this point of view, gifts that are personal and handmade are a good choice, but they require a long time to be prepared before the occasion because you will put much time to figure out the gift and if it can be printed on or not, then finding the images or shapes you want to print, then finding the places in which such gifts could be implemented. Also, make a registration at least a week ago before the occasion to avoid rushing. Eventually, this gift will be more valuable than a product you buy directly without making it personal. This will please the gifted person just by thinking in all the stages you have been through. An example of these gifts is to print names or special images on cups, t-shirts, or even a puzzle game or a watch or some custom crystal antiques.
11) The purpose of the gift is not in how possible it can be used or beneficial, but in how much the gifted person desires it. So you should buy gifts which the gifted person desires but does not buy them at the same time either because of their needs priorities or because they are embarrassed to buy such a gift! For example, parents may want to buy a modern cellphone with high potentials, but at the same time they prefer to spend this money on the family, or the kids instead of spending it on a new expensive mobile for them. If you realize this or if you choose such kind of gifts then the gift will be both, a reward and a gift, for the gifted person because usually these people make other's happiness their priority. So presenting such a gift will please the gifted person and makes them happy more than presenting a gift that they cannot afford. It may be also a gift that the gifted person wants but does not have the chance or ability to buy it, such as a chic and valuable bag for the books or for the laptop, or a kitchen equipment or a tool that the housewife could not buy for a long time despite her desire in it.
12) Do not go to buy gifts depending on the heavy wallet without having any idea about what you are going to buy, because you will end up with an empty wallet and with non-suitable gifts. If you are gifting a person or a group, you should make a list with their names and the gifts that suit their taste before going to the market. This will allow you to buy the suitable gift for each person and it will save time and effort during the process of purchase; plus, it will keep you in the range of your limited budget for buying gifts.
13) Do not distract yourself with many extensive gifts in the market when you buy the gift you want, if you have already decided the budget of the gift and its kind, so you should stay committed to your goal. Remember when buying is that the whole thing is to please the gifted person with the suitable gift, and this has nothing to do with what you love and desire at all. You may find some very attractive sneakers which lead you to buy them instead of the gift you have planned to buy; yet, as a matter of fact they are suitable for you and not for the gifted person. So not committing to the good gifts that you have already planned may lead you to buy other non-suitable gifts. If you want to change the planned gift, give yourself enough time to know how appropriate it is for the gifted person to decide whether it is better or not, without being overwhelmed by your desire in buying it for yourself.
 14) Do not go to buy gifts accompanied with children if possible, even if you had to delay the date of buying the gift, because children will not only hold on the products with joyful and attractive colors, but also you will lose a lot of your concentration when choosing the gift, especially if you do not have a prior decision about what to buy. This will also make you in a hurry to choose a gift to avoid children's troubles particularly if the gifts' shops are small and narrow ones. You will end up buying the non-suitable gift, or you will miss the opportunity to buy a better one.
 15) Always remember to remove the price label of the gift even if the gift was sent from the shop to the gifted person directly. You should always inform the shop and insure that the price label is removed before sending it. Delivering a gift with the price label even accidently will always remind the gifted person of the gift's price. Like you are telling them this is the price of the gift I'm presenting to you. At the same time, the surroundings may notice it which may bother the gifted person even if they were not personally affected. If the gifted person was not so close to you and knows you very well, they might think you are trying to make an exchange by informing them of the price of the gift, so you are putting them in consideration if they want to buy you a gift in the future in return, which is absolutely inappropriate. The impact of leaving the price label will be negative and strong on others, in which the relationship between you and them will be affected even if they did not mention the reason. So, you must always remember this very well and make sure of removing the price label before presenting gifts.
16) Do not offer the gifted person many choices to choose a gift from because you will give them a negative feeling of losing if the decision was not fortune. That is why you should choose and present a specific gift of the kinds you are reluctant about. If it was replaceable there is nothing wrong about that, but do not give the person the chance to lose when presenting them a gift.
17) Avoid presenting a gift with a high budget on the gifted person, especially if they are not one of the closest people to you, because they may feel humiliated. So try to make the gift a valuable surprise but with an acceptable budget, so that mistrust will not be a reason of you looking in an inappropriate way. Of course this is not applied in all the cases such as gifts for parents for example.
Get a Little Closer
Join Our Newsletter Now