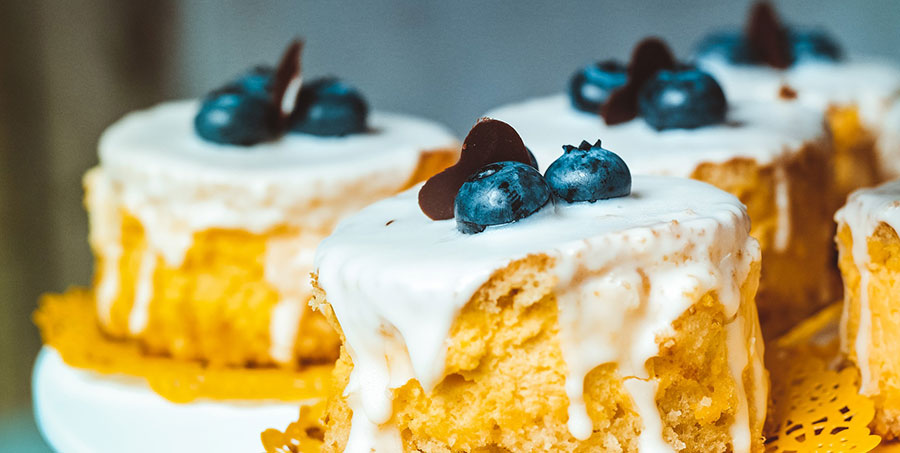 The pleasure with the dessert doesn't only come with the delicious taste, but the dessert presentation is a big part of it, so if you presented a delicious piece of cake that looks like a mess, the guest may lose his appetite before even tasting it, and the same with all kinds of desserts.
To make your desserts look so appetizing even before tasting it, you need to take care of many things. Let us gather them in five things… 
The Unique Dessert Plate Gift.

The stands, bowls or containers of the desserts.

The decorations of the desserts.

The cutting, slicing & scooping tools of the dessert.

The proper flatware for the dessert.

Proper dessert machines and makers to make the proper shapes and texture for the dessert.
These five points can give you some hints of new gift ideas for the home dessert makers because every woman likes making dessert herself at home wishes for the best dessert tools and machines to make the perfect desserts for the family and the children.
Plus, It is rare to find a person who does not like dessert, or at least one type of them, dessert is the best to present for welcoming and for visitors hospitality on most of the occasions for spreading joy and happiness, It is as well an important part of the gatherings between friends, and for many people, it is the best thing to have at the end of each meal.
We can not forget how delicious desserts comfort us sometimes when we feel sad, depressed, or even bored, and despite the pleasure of ready-made desserts in shops and restaurants, some people find special pleasure in making dessert on their own at for having their special taste, and to save money, whether by knowing well how to make it or by using simple easy recipes from the internet.
Sometimes for women it is much more beautiful to present a dessert that is made by their hands for the welcoming guests.
For having a perfect presentation for the dessert, there are many tools that will be needed for providing an attractive way for the presentation, like dessert stands, dishes, utensils, cutting and slicing tools, and cutlery.
One of the common things for dessert lovers, that they desire to eat dessert in the middle of the night when there are no shops or restaurants open, which makes dessert-making machines and makers a real savior for them, where it is possible to make easy and quick-to-prepare desserts whenever it is needed.
All of what we have mentioned open to you a wide range of options for creative gifts for dessert lovers, and we will give some examples of them so you can pick the proper ones to be your gifted person.
Buy from the following gift list as these are some of the recommend gift products that we find suitable for giving as a gift for your beloved ones, browse them and choose what suits your budget and your gift recipient.
Gifts for Lovers of Making Desserts
whether you are going to present oriental or western desserts, its presentation will be only complete when it is done in an elegant, coordinated, and decorated style, and one of the best ways to present desserts is to place them in a suitable and attractive dessert stand.
Dessert Stands are available in multiple and varied forms, including one, two, or three levels, and the purpose of the multiplicity of the different levels is to add different types of dessert on each level and at the same time providing a large and suitable amount of dessert for all guests.
What features more the multi-levels dessert stand that it does not take a big space on the dining table compared to big trays or a large single-storage in presenting a big amount of dessert, Plus, it is distinguished by its attractive decorative shape on serving tables, and it is available from in different materials like transparent glass, which gives the glory of the crystal, and other coral or ceramics, and other metal or stainless steel, and this makes it one of the most important gifts for those who like making and presenting dessert a lot, as you can gift a dessert stand with a distinctive and striking design.
On the other hand, if the gifted person is not used to having in-house parties, then you can present a one-level dessert stand to be practical for everyday use.
For those who do not know what this unique type of plates is, The dessert plate gift is a plate that women or a family fill with a kind of dessert then gift it to one of her neighbors, friends, or relatives, then this neighbor has to fill the same exact plate with dessert later as well then gift it to another neighbor or friend, it could be the same person who gifted it to her or maybe a completely different person, and so on… 
That plate should not be staying long with anybody, it should keep moving around every couple of weeks to increase the bond and the relationships between friends, neighbors and relatives. And it is a perfect way for dessert lovers, as they used to share already their new or delicious recipes with others.
This can be a perfect gift to present to a new neighbor as a housewarming gift, but not by presenting it empty, as you need to add some dessert in it.
This tradition is not common in many countries, despite the dessert sharing itself is common, which make presenting a dessert plate that has some drawings and words that show that this is the gift plate of sharing, and will make a nice touch for this sharing habit, Plus it will be as if the plate telling the lady who has it remember me and does not forget me on your shelves, I want to move around.
We all know that it is a mistake to leave the dessert openly except in the case of serving and eating them after a short period, as the correct behavior is to keep the dessert in a closed container in order to avoid exposing it to germs and flies and also to keep them from moisture, so gifting dessert storage is an essential piece in the kitchen, especially for the new married people, who often do not have these sub-luxuries at the beginning of their lives.
Plus, it is a nice gift for hospitality, especially for those who used to have house parties or gatherings, as the dessert is open for help yourself, which needs to be presented in a proper way.
There are tens and tens of desserts that need bowls for serving and the attractive dessert bowls are the proper way to present the dessert especially for the guests, which makes it a good gift idea for dessert lovers and makers of women.
Presenting serving bowls set is a good choice for new married couples, and as a housewarming gift for the new homes as well, and even if the gifted person has a dessert set already, it is always better to have more than one, and you can make your gift even different when you present a special dessert bowl set for kids, which usually have unique shapes and sizes with bright colors that makes it a great gift as a housewarming gift for families with children.
All Desserts Decorating Pen
The fun part of making a dessert is to decorate it with shanté cream or sugar dough by drawing different shapes on the surface of the cupcakes, the mother can do it by herself, or she can let her kids have fun in doing it themself.
It is a great complementary way to write greeting phrases or the name of those who will be presented to the guests in the parties or for the home visitors, and for doing that, decorating pens are needed which are available on the market in different sizes and shapes.
There are many decorating pens made of different materials, some are metal that is rust-proof and others are made of plastic, so you can choose the proper one to gift for the mother that has kids who are cupcakes and muffin lovers.
Cutting, Slicing & Scooping Tools for Dessert
The dessert presentation is a big part of making any dessert look appetizing, and to be able to present the dessert the perfect way, you will need to have the right tools for cutting, slicing & scooping it.
Some of these tools are so common and existed in most of the houses, and others are not despite they are important to have, so if you found that it is a good opportunity for you to present a cutting, slicing, scooping gift sets for the ladies who like to make dessert at home a lot and present to their families and guests, then you need to go for it, but you want to make sure that it is high quality so it can last for long, and to be proper as a good gift.
First, you need to know what are the top dessert dishes the gifted person likes to make, and then you can choose the proper tools for it, for instance…
Pastries cutter roller.
Pastry scraper.
Some desserts can be eaten directly by hands like the cupcakes and muffins and others need spoons and folks like ice cream and jello, cake and many others .. and presenting those kinds of dessert with the ordinary dinner flatware sometimes is not proper especially for guests, as there are spoons made especially for Ice creams, and small folks for desserts, This kind of gift can be good gift ideas for the dessert lovers, especially if you present unique pieces that will be used frequently as the Ice cream spoons for ice cream lovers…
Although it is very easy to get multiple recipes for dessert from the Internet, and many of which explain how to prepare and cook all types of dessert, but owning a book for dessert recipes remains an essential thing for many dessert lovers especially for the old moms and grandmoms that are not so patient or able to dig on the internet to get the recipe that they want. 
Plus, It is easier for some people to use a book for recipes in the kitchen when preparing dessert compared to browsing the recipe on the phone with small fonts, and not everybody has a tablet already to use it during processing.
Other reasons for women to use recipes books instead of the internet recipes is that the author of any dessert book is one of the best chefs to cook dessert or at least professional enough, and thus the user will get completely healthy and accurate recipes, while on the Internet the recipes may be incomplete or incorrect for several reasons…
For example, they maybe were written by non-specialist women, or because it was not reviewed well which is not found in books where books are reviewed several times before they are issued, as well they are not an oversight for some elements in the recipes or maybe because they are copied from other sites, which in turn may be incomplete or inaccurate.
So giving a dessert book to use instead of using the Internet is something that reflects the appreciation of professionalism and quality in the confectionery industry.
When you give a book as a gift on how to make sweets, it is preferable to choose what Contains many different types that It fits many occasions and tastes, and the taste of the particularly gifted person is the most important for sure. 
In addition to that, you need to consider the level of the gifted person in cooking or making desserts, so if she is not used to making dessert at home at all, then you need to gift a book containing easy and simple recipes suitable for amateurs and beginners.
The beginner's dessert books are nice to gift for young girls to encourage them in trying themself at home in their spare times,
Also, It will be nice to present dessert books that have unique and new kinds of recipes for other cultures for those women who like cooking and try new and different kinds of desserts.
There are so many types of dessert makers that are manufactured especially to make a specific kind of dessert, and if you already know that the gifted woman like a specific kind of dessert and she used to do it a lot, and she doesn't have the proper maker for it, then it will be a good opportunity for you to present a maker or machine for this type of dessert.
Here we will give examples of some common dessert makers that you can present as gifts…
It is a valuable and nice gift because it makes making ice cream in the house so easy and in a short time that reaches fifteen minutes only; so the gifted person will have great ice cream that can be served in minutes whether for his kids or his guests. 
The first feature for ice cream makers is the speed in mixing the ingredients as we have mentioned before, and the second feature is that it can be easily used by following the steps for making ice cream. The third and the most important feature is that the gifted person can have natural ice cream that is free of preservatives and artificial flavors. 
Also, the gifted person can remove the machine parts and clean them easily. It is amazing to know that some ice cream machines are attached with recipe booklets, and these recipes can be easily and quickly prepared so that the gifted person can make delicious ice cream in different flavors like vanilla, chocolate or strawberry and mango. So this booklet is a prototype of ice cream making books. 
Another feature of this machine is that the gifted person can use it to mix fresh fruit with frozen yogurt for example. Consequently, it would be great to present this machine as a birthday gift or housewarming gift for lovers of ice cream, or for families with children, so that they can eat healthy ice cream instead of the manufacturer ice cream that is full of artificial sugar and harmful preservatives.  
Cupcakes and Muffins are one of the best desserts to make at home for children, Plus, it is an easy dessert to make for parties and to present for guests, and using a cupcake maker will make it super easy and quick to cook at home, which makes it a perfect gift idea for the families that have kids.
It is one of the best wedding or housewarming gifts for waffle lovers, as it is small-sized that will not take much space, plus, it is a cheap kind of machine, which makes it a great gift idea for making delicious waffle for waffle lovers.
It is perfect for quick-preparing waffles by placing the waffle dough on the flipside which is usually divided into four or five divisions to make waffles from waffles in the form of hearts or flowers with an inner surface of Tefal that is not sticky, to have the perfect and delicious waffles for the family.
It is a nice kitchen gift idea for making crepe pancakes where the dough is spread to the not sticky Tefal surface after it is connected to electricity and the appropriate temperature is set. 
Usually, the crepe maker has a light indicator that indicates reaching the appropriate temperature for cooking which makes it easier to use on the proper time, Some types of Crepe makers come with a spoon to spread the dough and a stick to turn the pie on both sides during cooking, which makes it a suitable gift idea for crepe lovers and for all kitchens.
Top & Recommended General Gifts
Pick a Gift
Get a Little Closer
Join Our Newsletter Now